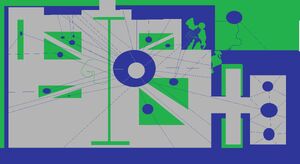 Located on the City Limits of
St. Bishop
, Espana prison is the largest and only supermax prison in the entire country. It is in the walls of 
Forteza San Felipe de el Morro et Leon
and is populated by 17 million inmates at any given time.
The Prison was founded by Marco Pozada, Olavar Pizzezco, and HMMV Sitting Whale. It was founded under the Treaty of Peace of the tribes to unite and lock away people who would harm the Empire and the Tribes. 
Dimension of the Cells
Edit
The cells are three feet by 2 feet wide and include a small stove, a pillow for sleeping, and a washing machine. There are no toliets in a cell but there is a bathroom that every hour a inmate is check for bathroom breaks. At times there can be one to two in mates per cell
Further Information
Edit
The Prison is divided into to blocks called Blue Dragon and Red Dragon. Blue Dragon are for the inmates that are females and Red Dragon for males. Males tend to be more agressive than their female counterparts. Most inmates are in a temporary 30 day cell usually caught for first offense. Smuggling Honedukes and other types of controband can automatically put you in a 40 year sentence. Most inmates are here from Gain and California. There are two other small branches called Espana Dos and Espana Tres. These two are smaller branches built to relase stress from the millions of inmates that are kept in the Prison. The Prison was founded by Emperor Jonathan, Marco Pozada, Olavar Pizzezco, and HMMV Sitting Whale. 
Community content is available under
CC-BY-SA
unless otherwise noted.